2015 remanexpo@paperworld: for the 3rd year, German customs raid booths of SE Asian exporters re. illegal cartridges
Just like in 2013 and 2014, many several Asian companies offering non-OEM cartridges were raided by German customs services at the February 2015 international office supplies' trade show  remanexpo@paperworld in Frankfurt, Germany. A special squad of 12-15 German customs officials walked the trade show floor on Saturday, on the look-out for patent-infringing printer cartridges. But as this was the 3rd year in a row, Asian firms had learned their lesson and made sure that they had few or no infringing products on display. However, German customs and OEM legal experts did come across brochures and other materials advertising illegal products. When asked for clarification, some exporters said "that these products were not available in European markets" …
ETIRA has its doubts as to these clarifications given by the Asian firms, as it is hard to verify that such sales really do not occur……..As a principle, ETIRA fully endorses the raids, as we fully repect the rights of printer manufacturers to actively protect their intellectual property rights. Selling patent-infringing newbuilt cartridges is a criminal offense, and resellers and distributors should not buy these products if they want to stay out of court. And it's also anti-social behaviour: these Asian cartridges typically pollute the European environment as they are not remanufactured (that would be just as illegal as building them) nor recycled. So they are simply thrown away after their 1st use, resulting in unnecessary extra landfill in Europe. Any European company caring about sustainability and its overall image, should only buy remanufactured OEM cartridges.
Networking at ETIRA booth and Cocktail  at remanexpo and The Recycler Awards Ceremony
In January, ETIRA again exhibited throughout the 4 days at the 2015 remanexpo trade show at Paperworld. This largest European show for office supplies was held 31 January – 3 February at Frankfurter Messe in Frankfurt, Germany. We met with Members and prospects and distributed flyers urging visitors to buy remanufactured and services from ETIRA Members only. We also handed out hundreds of ETIRA's 2015 "Guide to Clones".
On Sunday, ETIRA hosted its meanwhile traditional "ETIRA Cocktail at remanexpo@paperworld".  Over 100 industry delegates (remanufacturers', suppliers of components, ink/toner producers, empty collectors, and even several OEM's !) enjoyed the opportunity to network and exchange business cards…..This year, the drink was combined with the ceremony of The Recycler industry awards. Please refer to The Recycler for details and a list of the winners. The Cocktail was kindly sponsored by Messe Frankfurt: many thanks to them !  ETIRA also signed up several new Members at remanexpo.
ETIRA/THE RECYCLER FOE event in Barcelona draws the crowds
90+ delegates attend  –  Association says farewell to outgoing Board Members Horst Edelmeier and Flavio Monti, and appoints 4 new Board Members.
On 5/6 June 2014, ETIRA met in Barcelona for its annual member meeting, and for instructive seminars at the FOE Focus On Europe Conference. The event was a top opportunity for networking and learning. Held this year at the Salle Pere IV hotel, the FOE Conference is the 2nd largest industry event in Europe after remanexpo@paperworld.
Learning latest industry developments, networking over drinks and dinner, and farewell and "thank you !"  to Mr Horst Edelmeier of OCP (pictured left).    
On Thursday, ETIRA held its Board meeting and annual statutory meeting, the latter elected Mrssrs. Pierre-Antoine Pluvinage, (Armor) Joachim Kretschmer (Pelikan Hardcopy) , Javier Martinez (Consuprint) and Carsten Edelmeier (OCP) as new Board Members for the 2014-2016 mandate. In addition, President Christian Wernhart (Embatex), Vice-President David Connett (The Recycler), Treasurer Philippe Guenin (LVL) and Members Jan-Michael Sieg (KMP PrintTechnik) and Tamas Kadar (KIT) were reappointed.
The ETIRA Member's Only session was followed by the FOE Conference.This public event kicked off with a series of presentations by industry experts on many market-related topics.
The Cocktail and Dinner were for networking, and saw ETIRA say farewell and" thank you !" to outgoing Board Members Horst Edelmeier (OCP), who is retiring, and Flavio Monti (Pelican Hardcopy). Horst Edelmeier has been Member of the Board since 2006, and a strong supporter of ETIRA throughout. As Board Member he has provided input on "all issues ink", and his company OCP was a frequent sponsor of the many industry events
On Friday, several seminars moderated by The Recycler's David Connett, brought a full range of top industry Speakers who educated the audience on the latest industry news. On market intelligence there was a lot to learn: InfoTrends' Andrew Caroll showed the latest statistics on business inkjet and the presence of clones across W-Europe. From Static Control, Ken Lalley addressed the floor on the fight against clones. Many more interesting presentations were given.
ETIRA thanks organizers The Recycler magazine, and sponsors OCP, CBC, Static Control and Triton for a very succesful 2-day event in Barcelona !!
Dutch resellers Digital Revolution (123Ink), Maxperian and Printabout in Samsung ML/SCX-printer cartridge patent law suit 
As reported, late 2013 three dutch resellers were sued in The Hague by printer manufacturer Samsung under an "accelerated" court procedure. The OEM had claimed cartridges sold by these Dutch firms infringed one or more of its cartridge design patents. This infringement case only adresses third-party newbuilt cartridges, but not remanufactured Samsung cartridges, as remanufacturing does not infringe patents.
On 9 January 2014, the district court in The Hague ruled that Digital Revolution and Maxperian indeed infringed Samsung patent EP 537, and were ordered to  stop doing so immediately. They were also ordered to provide a list of their suppliers of the products infringing on patent EP 537 to Samsung. In the case of PrintAbout, the judge ordered that it too should provide a list of its suppliers of such products to Samsung. The court did not find that the matter was urgent enough to justify an immediate stop, but it did indicate that it was likely that in the regular (non-accelerated) court procedure, the court could rule that PrintAbout infringes Samsung patent EP 537. Samsung has indeed started these regular court actions. Patent EP 537 relates to cartridges for Samsung printers ML- en SCX-series.
These actions are a follow-up to steps taken in 2012, when 30 to 40 companies in Spain, France, Holland, Germany, UK and other countries had been sued by Samsung, and many consequently stopped selling the illegal cartridges. And in December 2013, Samsung took legal action against seven new-build resellers in Germany over the distribution of illegal new-build toner cartridges. 
German and Polish traders ordered to stop selling dozens of different types of infringing HP inkjet cartridges
On 24 January 2014, printer giant HP announced in a press release that it has concluded litigation against German firm BestUse GmbH. This German firm was ordered to stop selling 3-rd party cartridges that infringe patents on HP 344, HP 920 and HP 940 cartridges. Best Use also illegally labeled newly made inkjet cartridges as "remanufactured." A Düsseldorf court has ordered BestUse to pay HP's legal costs, and provide information to HP regarding its suppliers.
In Poland, HP has reached settlement agreements with several companies regarding infringing inkjet print cartridges. Those companies are ABC Data S.A. of Warsaw, reseller of Modecom brand inkjet cartridges, Komputronik S.A. of Poznan, owner of Accura brand inkjet cartridges, Modecom S.A. of Ołtarzew, owner of Modecom brand inkjet cartridges. Praxis S.A. of Warsaw, owner of ePrimo brand inkjet cartridges,  Scot Sp.z o.o. of Modlniczka, distributor of Printe branded inkjet cartridges, and Kris Krzysztof Muszalski of Czestochowa, owner of Expression brand inkjet cartridges. Each of these companies confirmed that the HP patents are valid and enforceable, that the products are covered by these patents and that the company would cease from offering or selling products in Poland and other countries where those patents are registered. Collectively, the settlements cover the models HP 21, HP 22, HP 27, HP 28, HP 56, HP 57, HP 300, HP 301, HP 336, HP 337, HP 338, HP 339, HP 342, HP 343, HP 344, HP 350, HP 351, HP 703, HP 704 and HP 901. In countries outside of Europe, the HP 300, HP 301, HP 336, HP 337, HP 338, HP 339, HP 342, HP 343, HP 344, HP 350 and HP 351 ink cartridges may be known by different product numbers.  In addition, the Polish companies had to destroy their stocks and reimburse HP for its legal costs.
In relation to a past settlement agreement concluded with HP in 2012, Warsaw-based Action S.A. resolved a disagreement concerning patent infringing inkjets. Action S.A. has agreed to not import or sell infringing inkjet print cartridges,  recall infringing Actis and ActiveJet print cartridges, and compensate HP for its legal costs.
HP continues its current legal action against Black Point relating to integrated printhead inkjet cartridges.
New EU Ecolabel criteria for imaging equipment favor remanufactured cartridges, and outlaw clever chips
In December 2013, the EU Commission published the criteria for the new EU Ecolabel for imaging equipment. The new Ecolabel will be available only to printers that accept remanufactured cartridges and were designed while taking reuse of cartridges in consideration. Moreover, the new rules say that anti-reutilisation devices/practises may not be present or applied. And to avoid all misunderstandings, OEM's must include the following message in the instruction manual of any Eco-label approved printer: 'The cartridges of this equipment are designed for reuse. It is recommended to reuse the cartridge as this is saving resource.'
Compulsory take-back system prefers reuse over recycling, and ensures that clones are excluded from EU ecolabeling
OEM's selling printers claiming the Ecolabel must offer to users a take-back system for the return of toner and/or ink modules and containers supplied or recommended by the applicant for use in the product, in order to channel them to reuse and/or material recycling with preference given to reuse. Third parties (i.e. remanufacturers and brokers) may be subcontracted to perform this task and they shall be provided with instructions for proper handling of residual toner. Non-recyclable product parts shall be properly disposed.
ETIRA welcomes the new rules. The new imaging equipment Ecolabel criteria are the clearest evidence yet that the EU Commission prefers remanufacturing of cartridges, as they are the best eco-friendly solution. The EU acknowledged that clever chips are the key handicap to reuse, and that these devices and practices are not allowed on any printer that wants to qualify under the Ecolabel logo.
The new criteria are in force until late 2017, so ETIRA expects that OEM's will gradually bring more and more printer models in compliance. ETIRA expects that in the long run,  the Ecolabel criteria may well become the "gold standard" which all public bodies across the EU will use when they put out a new tender for printers. And ETIRA expects that private businesses will follow suit".
Re-use your cartridges: Less expensive and environment-friendly!!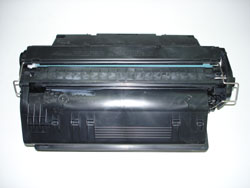 When a printer cartridge has been fully used, it can be remanufactured to be used again several times. This is a cost-effective and environmental-friendly alternative to buying a new cartridge.
On this website you will find all the information you need about the remanufacturing of cartridges.
ETIRA
ETIRA is short for European Toner & Inkjet Remanufacturers Association. ETIRA represents the interests of the European inkjet and toner cartridge remanufacturers and related service providers/compatibles manufacturers, etc. in Europe. Created in 2003, ETIRA members now account for over 40% of industry turnover. Today, ETIRA is the recognized industry body for all topics affecting cartridge remanufacturing. A non-profit organisation in accordance with Belgian law, its statutory seat is Brussels, with a Secretary General's office in Breda, The Netherlands.
Read more…