2013 ETIRA/Recycler FOE industry conference in Vienna strongly opposes clones
115 delegates attend  –  Association says farewell to outgoing Board Members Régis Thébaud and Thorsten Lifka, appoints Pierre-Yves Léger (Armor) and Flavio Monti (Pelikan).
On 20/21 June, ETIRA met in hot Vienna for its annual member meeting, and for instructive seminars at the FOE Focus On Europe Conference. The event was a top opportunity for networking and learning. Held this year at the Flemings Westbahnhof hotel, the FOE Conference is the 2nd largest industry event in Europe after remanexpo at paperworld.
On Thursday, ETIRA held its annual statutory meeting, which adopted the new Annual Report (see enclosed) and elected Mrssrs. Pierre-Yves Léger, (Armor) and Flavio Monti (Pelikan Hardcopy) as new Board Members. 
The ETIRA Member's Only session was followed by the FOE Conference. This public event kicked off with a Keynote address delivered by HP's expert on standardisation in imaging equipment Mr Paul Jeran, who gave attendees the headlines of the new ISO standard 29142 for cartridge characterization.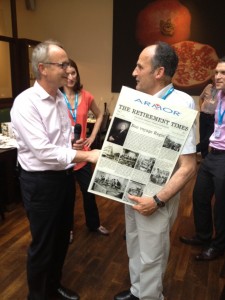 The Cocktail and Dinner were for networking, and saw ETIRA say farewell and thank you to outgoing Board Members Régis Thébaud, who is retiring, and Dr Thorsten Lifka. Régis has been instrumental in the fight against clones, and a driver behind our Guide to Clones.Thorsten has provided helpful input regarding OEM-, and other patents. 
On Friday, several seminars moderated by The Recycler's David Connett, brought a full range of top industry Speakers who educated the audience on the latest industry news. Speakers included Luke Goldberg and Mark Dawson of MSE, and TÜV Rheinland's Bernd Rippel on the latest review of the DIN 33870 standards. Colin Davison reported on the market situation in China, and Integral's Gunther Hagemann alerted attendees to the need to comply with REACH rules. On market intelligence there was a lot to learn: InfoTrends' Andrew Caroll showed the latest statistics. From Static Control, Ken Lalley addressed the floor on the fight against clones. The Recycler's David Connett spoke on the true cost of the empty. 
ETIRA thanks organizers RPE/The Recycler magazine, and sponsors Armor, OCP, Delacamp, Static Control, Triton and MSE for a very succesful 2-day event in Vienna !!
ETIRA puts thumbs up for OEM's seizing patent-infringing clones at Paperworld !
During the 2013 Paperworld trade show (see article below), several Asian companies exhibiting illegal non-OEM cartridges were raided by German customs services. As reported in various magazines, companies Ninestar and Uniplus saw a number of their products confiscated by the German officers on account of infringements of OEM patents.ETIRA fully endorses these raids: selling patent-infringing newbuilt cartridges is a criminal offense, and resellers and distributors should not buy these products if they want to stay out of court and avoid bankruptcy. And it's also anti-social behaviour: those cartridges pollute the European environment as they cannot be remanufactured (that would be just as illegal as building them) nor recycled. So they are simply thrown away after 1st use, resulting in unnecessary extra landfill in Europe. Any European company caring about sustainability and it's overall image, should only buy remanufactured original cartridges.ETIRA also welcomed the recent similar actions by HP in Poland. After HP's successful 2012 law suits against the unfair importers/traders in Spain, HP now also took on the sales of patent-infringing newbuilts in Eastern Europe. In Spain the illegal cartridges are no longer available, and the sellers are bankrupt. In Eastern Europe this will happen too.
ETIRA meets at 2013 remanexpo trade show, and says no to clones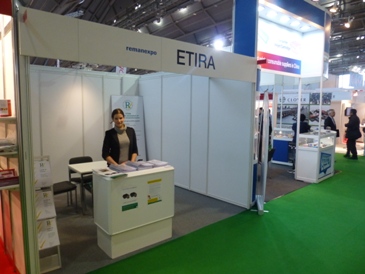 Busy networking at ETIRA booth and Sunday Cocktail
In January, ETIRA again exhibited throughout the 4 days at the 2013 remanexpo trade show. This largest European show for office supplies was held 27-30 January 2013 at Frankfurter Messe in Frankfurt, Germany.
We met with Members and prospects and distributed flyers urging visitors to buy remanufactured and services from ETIRA Members only. We also handed out hundreds of ETIRA's meanwhile famous "Guide to Clones": available in 5 languages, this Guide warns European resellers and buyers when buying imported newbuilt toners from Asia: these infringe OEM-patents, and buyers will be sued by OEMs. Moreover, many such cartridges pollute the European environment: since remanufacturing them would also be illegal, they always go straight to landfill after 1st use. And some are even falsely labeled, which is another criminal offense !
ETIRA also signed up several new Members at remanexpo.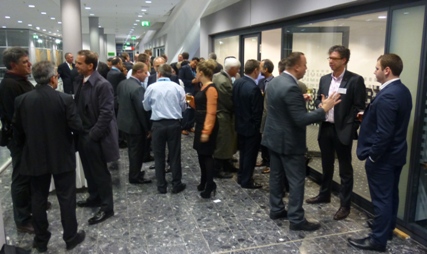 Great networking and newbizz leads for the 80 delegates at the ETIRA Cocktail on Sunday 27 January 2013.
ETIRA Members approve new Code of Conduct
During a special meeting at remanexpo, ETIRA Members also adopted a new Code of Conduct.ETIRA has carried a code of good business practice since 2002. Upon the Associations' 10th anniversary, a revised text was agreed to highlight the key ETIRA Member commitments. The Code again shows ETIRA Members are industry-leaders.
Member obligations include social and environmental responsibility, promotion of top-quality and innovative products, clear warranties, compliance with laws and regulations at national and international level, and ensuring consumer and worker safety and health.
The new Code also includes a clear obligation to not engage in patent-infringing newbuilts as defined in ETIRA's "Guide to Clones".
ETIRA's Secretary General Vincent van Dijk commented: "ETIRA Members have always been "best of class" in the industry. The new Code again confirms that well-known fact, and shows the world our Members are steadfast committed to a fair, innovative, and eco-friendly business model. It also shows we are dead serious about patent-infringing newbuilt clones. As we clarify in our Guide to Clones, marketing these products will quickly kill your business. The recent tough legal actions by the OEM's in Spain have removed the illegal patent-infringing newbuilt inkjets from that market, and the importers / traders are now bankrupt. And this will soon happen in other EU countries too ! "
Download the new ETIRA Code of Conduct here.
ETIRA 10th anniversary meeting and FOE conference June 2012 in Nice, France, sees record attendance
Seventeen "Founding Fathers" honoured, association says farewell to outgoing Board Member Heinz Sieg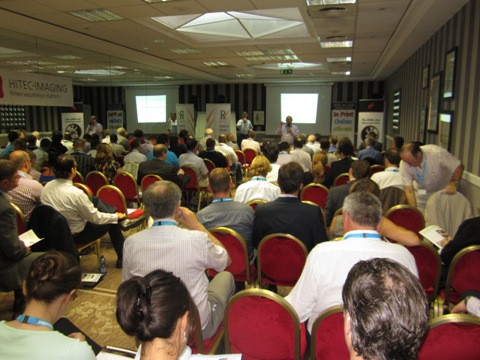 On 28/29 June 2012, ETIRA celebrated a great 10th Anniversary Party, followed by instructive seminars at the Holiday Inn hotel in the sizzling hot city of Nice on the French Riviera. Over 116 registered delegates attended what was truly its best event ever. Networking, learning and fun was everywhere, making the FOE conference the 2nd largest industry event in Europe after Remax at Paperworld.

On Thursday, the assocation held its annual statutory meeting, which elected Mrssrs. Jan-Michael Sieg of KMP PrintTechnik and Dr Torsten Lifka of Pelikan Hardcopy as new Board Members. The formal session was followed by a Keynote address delivered by one of the industry's major personalities, Mr Steve Weedon. As Steve created The Recycler magazine, was one of ETIRA founding fathers, and for many years led the European operations of Static Control Components, he was the perfect man to give the full overview of ETIRA's first 10 years lifespan in a clear and humorous way.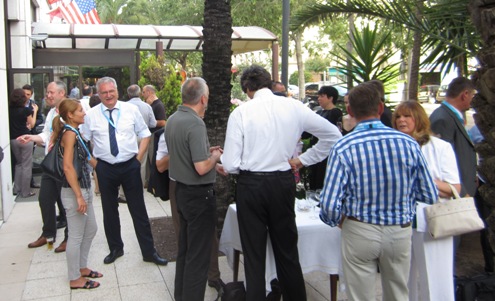 The Cocktail and Dinner saw ETIRA paying tribute by offering Awards to the 11 that are still in business of the 17 companies that, back in 2002, had the great vision and decided to create the association.
ETIRA also said farewell and thank you to founding father Mr Heinz Sieg of KMP PrintTechnik, who, after 10 years of service to ETIRA and its Board, decided to step down.
Lifetime achievement Awards were presented to Heinz and to Mr David Connett, owner of The Recycler magazine. David's support, dedication and know-how were instrumental to the growth of ETIRA from 17 to over 50 Members today. Now representing over 65% of the industry in Europe, ETIRA is fully equipped to serve the European cartridge remanufacturing industry for at least another 10 years!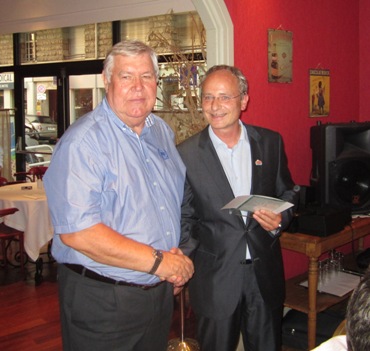 President Christian Wernhart (pict.right) says thank you to Heinz Sieg (pict. left) of KMP PrintTechnik, who steps down after 10 years of Board membership and as Treasurer of ETIRA.  
On Friday, several seminars moderated by David Connett, saw a full range of top industry Speakers who educated the audience on the latest industry news.
Lexmark's legal officer Andrew Gardner and Armor lawyer Mr Eugen Harazim were joined by Javier Martinez from Consuprint and Vincent van Dijk of ETIRA to underscore the dangers involved in trading patent-infringing cartridges. In the follow–up Panel session, Pelikan legal expert Christian Wohlrab and Tricia Judge from the US remanufacturers's assocation added their views. ETIRA also launched its Guide to Clones, a multi-language tool educating distributors and resellers regarding clones.
Also on market intelligence there was a lot to learn in Nice: InfoTrends' Andrew Caroll and Lightwords' Peter Mayhew showed the latest statistics. From Static Control, Ken Lalley gave business insights, as did Delacamp's Volker Kappius. Regarding smart MPS strategies, Jan de Kesel from In-Map, Nubeprint's Antonio Sanchez, and Peter Mayhew briefed the floor.
ETIRA thanks the organizers Recycler magazine and sponsors Baiksan, KMP, Emstar, OCP, Delacamp, Static Control, In-Map, HITEC Imaging and NubePrint for a great 2-day event in Nice.
Samsung and HP take action against patent-infinging newbuilts
In February 2012, printer giant Samsung started the first of a series of legal actions against the trade in patent-infringing newbuilt cartridges in Europe. About 30 to 40 companies in Spain, France, Holland, Germany, UK and other countries have received warning letters from lawyers of the OEM. According to Samsung, many of the China-built clone cartridges sold by these companies infringe one or more of their patents. Samsung tells the firms to immediately stop the sale and pay damages.
Also HP has taken similar action in March 2012: in Spain, HP's lawyers have written to over 30 firms that trade patent-infringing newbuilt inkjet cartridges. The firms are ordered to stop the sale and destroy any available products, and indemnify HP for lost profits.
ETIRA welcomes these legal actions: as a group representing remanufacturers of used OEM cartridges, we have long called on OEM's to act against patent-infringing newbuilts. We are happy to see that OEMs are now finally taking legal action. And ETIRA has always warned distributors and resellers in Europe trading these products that they would be taken to court and would have to pay heavy fines if they do not respect legitimate patents.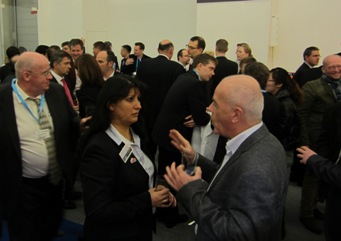 Members and prospect Members also gathered for drinks and great networking at the 
ETIRA remanexpo Cocktail 
on Sunday evening, which had a record turn-out of 90 attendees …….   
Newbuilt cartridges incorrectly labeled as remanufactured
Today, some non-OEM imported cartridges are not properly labeled. They are labeled as "remanufactured" or as "re-used" or alike, but in reality these products are imported newly built cartridges, mostly imported from SE Asia. Often these cartridges also infringe OEM-patents. The OEM's are paying growing attention at these products, and they will take legal action to stop these imports.
But also our industry suffers financial damage, because customers believe that they are "being green" when buying these cartridges, yet in reality they are buying new cartridges! The wrongly-labeled newbuilts hence take advantage of the remanufactured "brand", without doing the work for it, or providing its environmental benefits.
ETIRA has taken action against these newbuilt products claiming to be remanufactured. We have sued a number of companies and webshops in Europe. Where ever we have found these products, we wrote to the supplier(s) involved and insisted on an end to their trade. In several cases we have taken legal action which resulted in an a large fine for the selling company.
SO BE GREEN, NOT BLACK: buy only remanufactured from ETIRA Members (see the list under "Find Members"-section on this website)
Re-use your cartridges: Less expensive and environment-friendly!!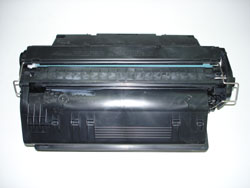 When a printer cartridge has been fully used, it can be remanufactured to be used again several times. This is a cost-effective and environmental-friendly alternative to buying a new cartridge.
On this website you will find all the information you need about the remanufacturing of cartridges.
ETIRA
ETIRA is short for European Toner & Inkjet Remanufacturers Association. ETIRA represents the interests of the European inkjet and toner cartridge remanufacturers and related service providers/compatibles manufacturers, etc. in Europe. Created in 2003, ETIRA members now account for over 40% of industry turnover. Today, ETIRA is the recognized industry body for all topics affecting cartridge remanufacturing. A non-profit organisation in accordance with Belgian law, its statutory seat is Brussels, with a Secretary General's office in Breda, The Netherlands.
Read more…