FEBRUARY 2018: EU-commisioned study on cartridge market clearly concludes: more regulatory action is needed to promote cartridge reuse  
The EU's "Study on the implementation of product design requirements set out in Article 4 of the WEEE Directive   –  The case of re-usability of printer cartridges" came out in late February 2018.  It found that the cartridge market is very competitive, but the regulatory environment is not well suited to promoting reuse of products or encouraging dematerialisation and greater material efficiency. Significant alterations are proposed. The study writers promote using the Extended Producer Responsibility (EPR) as key to enhance overall cartridge re-use.
Re. market data, they say that clones represent 5% of toner and inkjet markets  respectively (which seems a serious underestimate).  On the OEM's Voluntary Agreement Imaging Equipment, the study says that its data shows the VA does not promote cartridge reuse. The study suggests to revise the VA, and include parameters on lower emissions of printing. The car industry has examples of such mandatory CO2 reduction targets. Reducing cartridge complexity (clever chips !) can be one of the ways to do that. On the Ecolabel, the study supports developing an EU Ecolabel criteria for remanufactured cartridges (as requested by ETIRA).
The study identified concerns and corresponding actions as follows:
Creating a level playing field for the new and re-use/second-hand markets.
Consolidating patent holder and OEM protection and second user rights
Improving design for reuse, recycling and recovery
Ensuring reused cartridge performance.
Improving re-use performance disclosure.
To improve the market situation for both legitimate new and reused cartridges, a range of measures is proposed for consideration:
Addressing the issue of 'rogue clone' imports
Ensuring reuse agents do not mis-represent reused units as OEM products.
Improving access to cartridge design and consumables specifications
Revising the EU GPP criteria to address 'remanufactured and refilled cartridges.
Improving user information on all cartridge packaging to reveal true performance.
Creating a rating system for cartridge quality ('failure rate') matched to user expectations.
Rationalising acceptable phrases to be used to describe new and reused cartridges.
Reviewing the Voluntary Agreement so that data on rates of take-back, re-use, recycling and other recovery operations is routinely collected and published.
Expanding scope of actions by producers of cartridges to promote and support the reuse option as an alternative to take-back.
in 2016/2017, ETIRA had provided substantial input to the writers of the study. We are glad to see that it now identifies current OEM market behaviour as not contributing to promotion of cartridge reuse, and takes on board several of our recommandations to adress this problem. We will now reach out to regulators to put this into action !
ETIRA at remanexpo: Booth, Board and Member meetings, Sunday Cocktail/ The Recycler Awards, and Member networking
Market players adjusting to the new normal – German customs checked booths of SE Asian exporters for illegal cartridges – ETIRA presentation  –  ETIRA Board meeting
From 27 to 30 January, ETIRA again exhibited at the 2018 remanexpo at the international trade show Paperworld. This largest European show for office supplies was held at Frankfurter Messe in Frankfurt, Germany. We met with many Members, several prospects, OEM rep's, and distributed flyers urging visitors to buy remanufactured cart's and services from ETIRA Members only. We also handed out ETIRA's "Guide to Clones".  On Sunday, there was the traditional ETIRA Cocktail, jointly with the festive The Recycler Awards ceremony. Over 150 persons met at this "must attend" industry networking opportunity. Please refer to industry magazine The Recycler for more details. The Cocktail was kindly sponsored by Messe Frankfurt: many thanks to them, and to the organisers of the The Recycler team !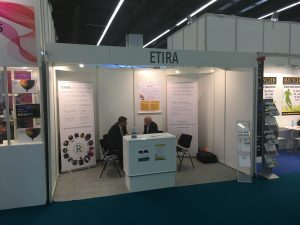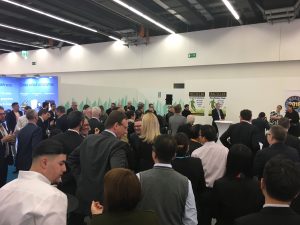 Our meetings with industry members indicated that they are adjusting to the new market normal. Although the presence of non-OEM newbuilts on W-European markets again increased somewhat in 2017 (after a stabilisation in 2015/2016), remanufacturers are dealing with that challenge, and with the stiff competition from the OEM's.  German customs and OEM lawyers were also "on site", checking booths of SE Asian exporters for the presence of illegal cartridges. And ETIRA's Vincent van Dijk presented (PDF available from the Secretariat) ETIRA's work for the industry and why you need to be a member. In addition, the Board of Directors of ETIRA met on Sunday to discuss latest market news, member issues, upcoming Board member elections, and our 2018 activities. They were four full and useful days ! More details ? Ask ETIRA, info@etira.org.
ETIRA flyer supporting remanufactured cartridges 
ETIRA has a flyer that tells the reader to buy their remans only from ETIRA members. As an easy- hand out,  the flyer lists the benefits of remanufactured cartridges compared to OEM and compatibles. The flyer can be downloaded by clicking here !
ETIRA responds to recent HP flyer on cartridges
General marketing speak is OK, but you cannot say things that are not true. ETIRA regrets that HP's new product marketing material is again lowering the bar. Their September 2017 flyer on printer cartridges may be generally correct on clones and counterfeits, but speaks nonsense on remanufactured cartridges: it is a baseless generalization, which gets it wrong on all three counts: quality, safety and environment.
On quality, because since the 1990's, 3rd party cartridge remanufacturers have held a 20-30% market share in toners and 15-20% in inkjets and is now a 2bn euro industry in Europe. So remanufacturers must be doing something right in terms of quality. And like the OEM's, remanufacturers comply with the ISO cartridge yield standards.
On safety and quality, because most remanufacturers produce according to DIN, Nordic Ecolabel, STMC, ISO 9003, and other international safety and quality standards.
On environment, because we adhere to ISO 14001, Blue Angel, Nordic Ecolabel and similar standards. Most environment standard are only available to reuse cartridges, because by definition, they are more environment-friendly than new cartridges !  And it is only thanks to 3rd party remanufacturers that 20-30% of cartridges are not being landfilled after 1st use, but get a 2nd and subsequent life, reducing their environmental footprint while offering customer choice.  No printer manufacturer matches that environmental performance.
ETIRA thinks the flyer contradicts earlier HP viewpoints. In 2015, HP sued a company in the Netherlands because it sold new non-HP cartridges but labeled them as "totally rebuilt". But as HP does not offer remanufactured HP cartridges, ETIRA saw this court case as support to the remanufactured cartridge industry. Why else would they spend the time and cost of a court case ?
ETIRA reached out to HP management to stress that the flyer is misleading and constitutes false advertising, and must be reworded.
Welcome to the website of ETIRA ! Here you can find all you need to know about the reuse of cartridges.
Re-use your cartridges: Less expensive, and environment-friendly!!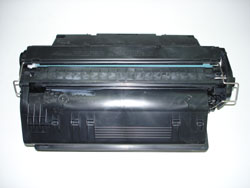 When a printer cartridge has been fully used, it can be remanufactured to be used again several times. This is a cost-effective and environmental-friendly alternative to buying a new cartridge. On this website you will find all the information you need about the remanufacturing of cartridges.

ETIRA
ETIRA is short for European Toner & Inkjet Remanufacturers Association. ETIRA represents the interests of the European inkjet and toner cartridge remanufacturers and related service providers/compatibles manufacturers, etc. in Europe. Created in 2003, ETIRA members now account for over 40% of industry turnover. Today, ETIRA is the recognized industry body for all topics affecting cartridge remanufacturing. A non-profit organisation in accordance with Belgian law, its statutory seat is Brussels, with a Secretary General's office in Breda, The Netherlands. Read more…