Welcome to the website of ETIRA ! Here you can find all you need to know about the reuse of cartridges.
Re-use your cartridges: Less expensive, and environment-friendly!!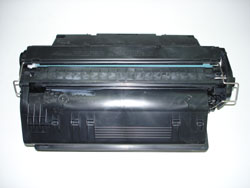 When a printer cartridge has been fully used, it can be remanufactured to be used again several times. This is a cost-effective and environmental-friendly alternative to buying a new cartridge. On this website you will find all the information you need about the remanufacturing of cartridges.
ETIRA at 2017 remanexpo@paperworld:  4-day Booth, Board and Member meetings, Cocktail and Member networking  – ETIRA presentation
Late January 2017, ETIRA again exhibited at the 2017 remanexpo trade show at Paperworld. This largest European show for office supplies was held at Frankfurter Messe in Frankfurt, Germany. We met with scores of Members and prospects, and distributed flyers urging visitors to buy remanufactured and services from ETIRA Members only. We also handed out ETIRA's "Guide to Clones"(which is also available from our website in 11 languages).
On Sunday, ETIRA hosted its meanwhile traditional "ETIRA Cocktail. Over 140 industry delegates (remanufacturers', suppliers of components, ink/toner producers, empty collectors, and even several OEM's !) enjoyed the opportunity to network and exchange business cards…..The drink was combined with the ceremony of The Recycler industry awards. Please refer to The Recycler for details and a list of the winners. The Cocktail was kindly sponsored by Messe Frankfurt: many thanks to them, and to the organisers of the Recycler team !
On Sunday afternoon, the ETIRA Board of Directors met. We discussed many issues, including market developments, standardization, circular economy, membership criteria, etc. etc.
During the show's seminar programme, ETIRA's Vincent van Dijk presented on ETIRA and its many activities. On Saturday and again on Monday, we briefed the audience on what we do for the industry, and why you need yo be a member. Qualifying organisations may ask us for the presentation, info@etira.org.
ETIRA/THE RECYCLER FOE June 2016 conference in Lisbon brings industry together
Record turnout at networking event:  100+ delegates attend  – ETIRA elects new Board of Directors – Lifetime achievement award for David Connett and 10- year presidency anniversary award for Christian Wernhart 
Learning latest industry developments, networking over drinks and dinner, and the ETIRA Lifetime Achievement Award for ETIRA founder David Connett, who stepped down as its Vice-Pesident. There was also an Award for Christian Wernhart, who celebrated 10 years as President of ETIRA
On 16-17 June 2016, ETIRA met in Lisbon, Portugal, for its annual member meeting, and for the FOE Focus On Europe Conference. The event was a top opportunity for networking and learning, held this year at the Holiday Inn Lisbon Continental hotel. With its 100+ delegates, and organised by The Recycler magazine, the FOE Conference is the 2nd largest industry event in Europe after remanexpo@paperworld. On Thursday, ETIRA held its internal Board meeting and annual statutory meeting. The association approved its 2015 financial statements and the 2016 budget. Members evaluated the 2015/2016 activities and the work done by ETIRA in the past 12 months, They also assessed the priorities for 2016. Thursday afternoon and Friday morning saw an impressive group of FOE Speakers adressing the floor on many topics facing remanufacturers today. Industry magazine The Recycler will report extensively on the many presentations. And the Thursday Cocktail and Dinner were great for informal networking and new bizz opps !
ETIRA elects new Board of Directors
On Thursday, ETIRA elected a new Board of Directors for the mandate 2016-2018. Mr Christian Wernhart (Embatex) was re-appointed as association President, while  David Connett, founding Member of ETIRA and Vice-President, stepped down. Also departing were Carsten Edelmeier of OCP and Pierre-Antoine Pluvinage of ARMOR. New faces on the Board included ARMOR's MD for Office Printing Gerwald van der Gijp, The Recycler's Stefanie Unland, and Jörgen Wonisch, CEO of Greenman in Sweden. They joined re-elected Members Philippe Guenin (LVL), Jan-Michael Sieg (KMP), Javier Martinez (Consuprint), and Joachim Kretschmer (Pelikan).
ETIRA says "Thank You" to David Connett and Christian Wernhart
Former editor of The Recycler David Connett, founding ETIRA Member and Vice-President since its creation, stepped down from the Board. In Lisbon, the industry and ETIRA paid hommage to a man who has been instrumental in the growth of this industry. Having started as a remanufacturer himself, he went on to buy industry magazine The Recycler in the 1990's, and built it into the #1 industry magazine worldwide. The success of the magazine was reinforced by the many trade reman shows, first small in Paris, then larger and larger shows in Barcelona, Düsseldorf, and today in Frankfurt. And throughout he has focused on building the remanufactured common brand, and bringing the industry together. Over Dinner at the FOE Conference, ETIRA President Wernhart presented David with the ETIRA Lifetime Achievement Award, in recognition of his major contributions to ETIRA and it Members. ETIRA also thanked Mr Christian Wernhart: the 2nd President since 2006, he celebrated 10 years at the helm of the trade association. Wernhart said he was very happy because it was unexpected and he had not rememberd that already 10 years had passed, so it was a very nice surprise.
ETIRA thanks organizers The Recycler magazine and main sponsor Static Control, plus co-sponsors Embatex, Biuromax and OWA Armor, for a very succesful 2-day event in Lisbon !!
  June 2015: ETIRA/THE RECYCLER FOE event and ETIRA annual meeting in Rome
100+ delegates attend  – ETIRA Activity Report 2015/2016 presented– The Recycler lifetime achievement awards for Horst Edelmeier (OCP) and Heinz Sieg (KMP).
On 4/5 June 2015, ETIRA met in Rome, Italy, for its annual member meeting, and for the FOE Focus On Europe Conference. The event was a top opportunity for networking and learning, held this year at the Holiday Inn Rome–West Aurelia hotel. With its 100+ delegates, the FOE Conference is the 2nd largest industry event in Europe after remanexpo@paperworld. Learning latest industry developments, networking over drinks and dinner, and The Recycler lifetime achievement awards for industry veterans Mrssrs. Horst Edelmeier (OCP) and Heinz Sieg (KMP). On Thursday, ETIRA held its Board meeting and annual statutory meeting. The general assembly meeting was attended by 26 member firms. The association approved its 2014 financial statements and the 2015 budget. It also adopted the ETIRA 2015/2016 Activity Report, which highlights the work done by ETIRA in the past 18 months, and outlines the priorities for 2016. Last year, ETIRA focused on fighting clones and OEM patents on remanufacturing, as well as lobbying for remanufacturing-friendly rules on eco-design and the WEEE. In addition, ETIRA worked against tenders excluding remanufactured cartridges, and OEM's which refuse to honour the printer warranty simply because non-OEM cartridges were used. Please refer to the Activity Report for a full overview. In 2015/2016, ETIRA will be active on WEEE implementation at national level and support its Members which are being sued by OEM's for infringing patents on remanufacturing. our aganda. Moreover, the ETIRA Board of Directors decided to take a fresh look at the posibility of drafting a product standard, and write an updated press kit for use by Members. The ETIRA Member's Only session was followed by the FOE Conference.This public event kicked off with presentations by industry experts on many market-related topics. SCC's Simon Grimes stressed the need to better value our own products, and Integral's Jan Hagemann spoke about the REACH legislation: although REACH enforcement was poor in the past, remanufacturers across Europe are bound to see more compliance inspections in the near future. Clover made a noticeable appearance too: Mark Perry briefed the audience on business acquisitions, of which Clover have shown to be the experts ! On Friday, market intelligence expert Andrew Caroll of InfoTrends presented data on West European markets, followed by IDC's Przemek Kowalski who gave the CEMA market perspective. Giovanni Ravelli of ARTI-ITALIA spoke about the Italian market, and Armor's Enzo Mietta presented a recent green procurement programme from the Italian government. Currently, they recommend that a minimum percentage of all government purchases must be remanufactured, so our industry could benefit from this law. And if the (voluntary) recommendation will become an obligation, this will be even better ! Delacamp's Volker Kappius showed that remanufacturers can make money by distinguishing themselves from clones, while MSE's Mark Dawson called on remanufacturers to focus on their added values, and not compete on price. Nubeprint's Juan Alvite showed how MPS can serve as a great addition to your business model. The Cocktail and Dinner were for networking, and saw the presentation of lifetime achievement Awards to industry veterans Horst Edelmeier (OCP) and Heinz Sieg (KMP PrintTechnik). Both men were pioneers in the creation of the industry back in the 1980/1990's. They recognized the huge potential that cartridge remanufacturing could bring, and succesfully built their firms from scratch to the global leading firms they are today. Also ETIRA salutes these two great industry founding fathers. ETIRA thanks organizers The Recycler magazine, and main sponsor Static Control plus co-sponsors Delacamp, Emstar, Connett & Unland and Triton for a very succesful 2-day event in Rome !! At the annual meeting in Rome, ETIRA approved its bi-annual Activity Report, and discussed its 2015-2016 work programme. In addition to the ongoing fight against clones, ETIRA will focus on eco-design issues (implementation of EU WEEE directive at national level, printers violating the 2013 EU-OEM Voluntary Agreement, enhanced push for Eco-label certified printers/Green Public Procurement). Unfair OEM patents on remanufacturing are also on ETIRA's radar screen. 
Dutch resellers Digital Revolution (123Ink), Maxperian and Printabout in Samsung ML/SCX-printer cartridge patent law suit  As reported, late 2013 three dutch resellers were sued in The Hague by printer manufacturer Samsung under an "accelerated" court procedure. The OEM had claimed cartridges sold by these Dutch firms infringed one or more of its cartridge design patents. This infringement case only adresses third-party newbuilt cartridges, but not remanufactured Samsung cartridges, as remanufacturing does not infringe patents. On 9 January 2014, the district court in The Hague ruled that Digital Revolution and Maxperian indeed infringed Samsung patent EP 537, and were ordered to  stop doing so immediately. They were also ordered to provide a list of their suppliers of the products infringing on patent EP 537 to Samsung. In the case of PrintAbout, the judge ordered that it too should provide a list of its suppliers of such products to Samsung. The court did not find that the matter was urgent enough to justify an immediate stop, but it did indicate that it was likely that in the regular (non-accelerated) court procedure, the court could rule that PrintAbout infringes Samsung patent EP 537. Samsung has indeed started these regular court actions. Patent EP 537 relates to cartridges for Samsung printers ML- en SCX-series. These actions are a follow-up to steps taken in 2012, when 30 to 40 companies in Spain, France, Holland, Germany, UK and other countries had been sued by Samsung, and many consequently stopped selling the illegal cartridges. And in December 2013, Samsung took legal action against seven new-build resellers in Germany over the distribution of illegal new-build toner cartridges. 
German and Polish traders ordered to stop selling dozens of different types of infringing HP inkjet cartridges On 24 January 2014, printer giant HP announced in a press release that it has concluded litigation against German firm BestUse GmbH. This German firm was ordered to stop selling 3-rd party cartridges that infringe patents on HP 344, HP 920 and HP 940 cartridges. Best Use also illegally labeled newly made inkjet cartridges as "remanufactured." A Düsseldorf court has ordered BestUse to pay HP's legal costs, and provide information to HP regarding its suppliers. In Poland, HP has reached settlement agreements with several companies regarding infringing inkjet print cartridges. Those companies are ABC Data S.A. of Warsaw, reseller of Modecom brand inkjet cartridges, Komputronik S.A. of Poznan, owner of Accura brand inkjet cartridges, Modecom S.A. of Ołtarzew, owner of Modecom brand inkjet cartridges. Praxis S.A. of Warsaw, owner of ePrimo brand inkjet cartridges,  Scot Sp.z o.o. of Modlniczka, distributor of Printe branded inkjet cartridges, and Kris Krzysztof Muszalski of Czestochowa, owner of Expression brand inkjet cartridges. Each of these companies confirmed that the HP patents are valid and enforceable, that the products are covered by these patents and that the company would cease from offering or selling products in Poland and other countries where those patents are registered. Collectively, the settlements cover the models HP 21, HP 22, HP 27, HP 28, HP 56, HP 57, HP 300, HP 301, HP 336, HP 337, HP 338, HP 339, HP 342, HP 343, HP 344, HP 350, HP 351, HP 703, HP 704 and HP 901. In countries outside of Europe, the HP 300, HP 301, HP 336, HP 337, HP 338, HP 339, HP 342, HP 343, HP 344, HP 350 and HP 351 ink cartridges may be known by different product numbers.  In addition, the Polish companies had to destroy their stocks and reimburse HP for its legal costs. In relation to a past settlement agreement concluded with HP in 2012, Warsaw-based Action S.A. resolved a disagreement concerning patent infringing inkjets. Action S.A. has agreed to not import or sell infringing inkjet print cartridges,  recall infringing Actis and ActiveJet print cartridges, and compensate HP for its legal costs. HP continues its current legal action against Black Point relating to integrated printhead inkjet cartridges.   New EU Ecolabel criteria for imaging equipment favor remanufactured cartridges, and outlaw clever chips In December 2013, the EU Commission published the criteria for the new EU Ecolabel for imaging equipment. The new Ecolabel will be available only to printers that accept remanufactured cartridges and were designed while taking reuse of cartridges in consideration. Moreover, the new rules say that anti-reutilisation devices/practises may not be present or applied. And to avoid all misunderstandings, OEM's must include the following message in the instruction manual of any Eco-label approved printer: 'The cartridges of this equipment are designed for reuse. It is recommended to reuse the cartridge as this is saving resource.' Compulsory take-back system prefers reuse over recycling, and ensures that clones are excluded from EU ecolabeling OEM's selling printers claiming the Ecolabel must offer to users a take-back system for the return of toner and/or ink modules and containers supplied or recommended by the applicant for use in the product, in order to channel them to reuse and/or material recycling with preference given to reuse. Third parties (i.e. remanufacturers and brokers) may be subcontracted to perform this task and they shall be provided with instructions for proper handling of residual toner. Non-recyclable product parts shall be properly disposed. ETIRA welcomes the new rules. The new imaging equipment Ecolabel criteria are the clearest evidence yet that the EU Commission prefers remanufacturing of cartridges, as they are the best eco-friendly solution. The EU acknowledged that clever chips are the key handicap to reuse, and that these devices and practices are not allowed on any printer that wants to qualify under the Ecolabel logo. The new criteria are in force until late 2017, so ETIRA expects that OEM's will gradually bring more and more printer models in compliance. ETIRA expects that in the long run,  the Ecolabel criteria may well become the "gold standard" which all public bodies across the EU will use when they put out a new tender for printers. And ETIRA expects that private businesses will follow suit".
ETIRA
ETIRA is short for European Toner & Inkjet Remanufacturers Association. ETIRA represents the interests of the European inkjet and toner cartridge remanufacturers and related service providers/compatibles manufacturers, etc. in Europe. Created in 2003, ETIRA members now account for over 40% of industry turnover. Today, ETIRA is the recognized industry body for all topics affecting cartridge remanufacturing. A non-profit organisation in accordance with Belgian law, its statutory seat is Brussels, with a Secretary General's office in Breda, The Netherlands. Read more…