ETIRA annual meeting/ The Recycler Live event
On 27-28 June 2019, ETIRA will celebrate its annual meeting in Brussels at the Novotel City Centre. As usual, our meeting is held jointly with the "The Recycler Live Europe" event. Together, we offer the best opportunity to meet and greet your fellow industry members, see full details here: https://www.therecycler.com/posts/the-recycler-live-returns-to-brussels/      And ETIRA Members can attend for a discount* !
Registration:
The first delegate from each ETIRA member company can enter for free.  Click this link and press the green ticket button to register.  Bring an additional delegate from your company and get a 50% discount on the Early Bird registrations. Click this link and press the green ticket button to register.
Hotel Booking: There is a special hotel rate for delegates who should use the special booking form and book directly with the hotel.  The form can be downloaded here.
We look forward to meeting you in Brussels!   ETIRA kindly thanks the sponsors for making this event possible.
Welcome to the website of ETIRA ! Here you can find all you need to know about the reuse of cartridges.
ETIRA
ETIRA is short for European Toner & Inkjet Remanufacturers Association. ETIRA represents the interests of the European inkjet and toner cartridge remanufacturers and related service providers/compatibles manufacturers, etc. in Europe. Created in 2003, ETIRA members now account for over 60% of industry turnover. Today, ETIRA is the recognized industry body for all topics affecting cartridge remanufacturing. A non-profit organisation in accordance with Belgian law, its statutory seat is Brussels, with a Secretary General's office in Breda, The Netherlands. Read more…
ETIRA flyer supporting remanufactured cartridges
ETIRA has a flyer that tells the reader to buy their remans only from ETIRA members. As an easy- hand out,  the flyer lists the benefits of remanufactured cartridges compared to OEM and compatibles. The flyer can be downloaded by clicking here!
Re-use your cartridges: Less expensive, and environment-friendly!!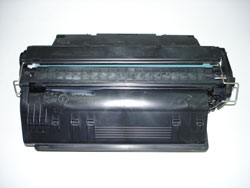 When a printer cartridge has been fully used, it can be remanufactured to be used again several times. This is a cost-effective and environmental-friendly alternative to buying a new cartridge. On this website you will find all the information you need about the remanufacturing of cartridges.