June 24, 2021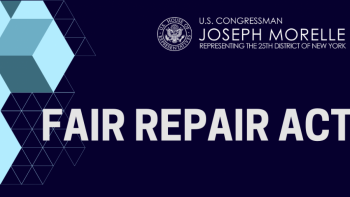 Javier Martinez, president of ETIRA, said: "ETIRA is very pleased to see the US Congressman introducing the Fair Repair Act.
"We represent inkjet and toner cartridge remanufacturers across the EU and have been lobbying the EU for a right to repair for many years now. The recent EU Green Deal should deliver a compulsory Right to Repair, and the EU's Sustainable Product policy should ensure that products are designed in such a way that they can be easily reused (eco-design). Cartridges are textbook products for repair, but original equipment manufacturers (OEMs) use many ways to block reuse.
"The Fair Repair Act will mean that businesses and consumers will no longer be held hostage by the OEM and will have the right to repair their own products.
"This is a very important Bill that will help to reduce waste and lower prices for repair in the USA, and we fully support this and hope that the EU will take steps to improve regulations for remanufacturers across the EU."
For more on this please visit https://morelle.house.gov/media/press-releases/congressman-joe-morelle-introduces-fair-repair-act