January 17, 2023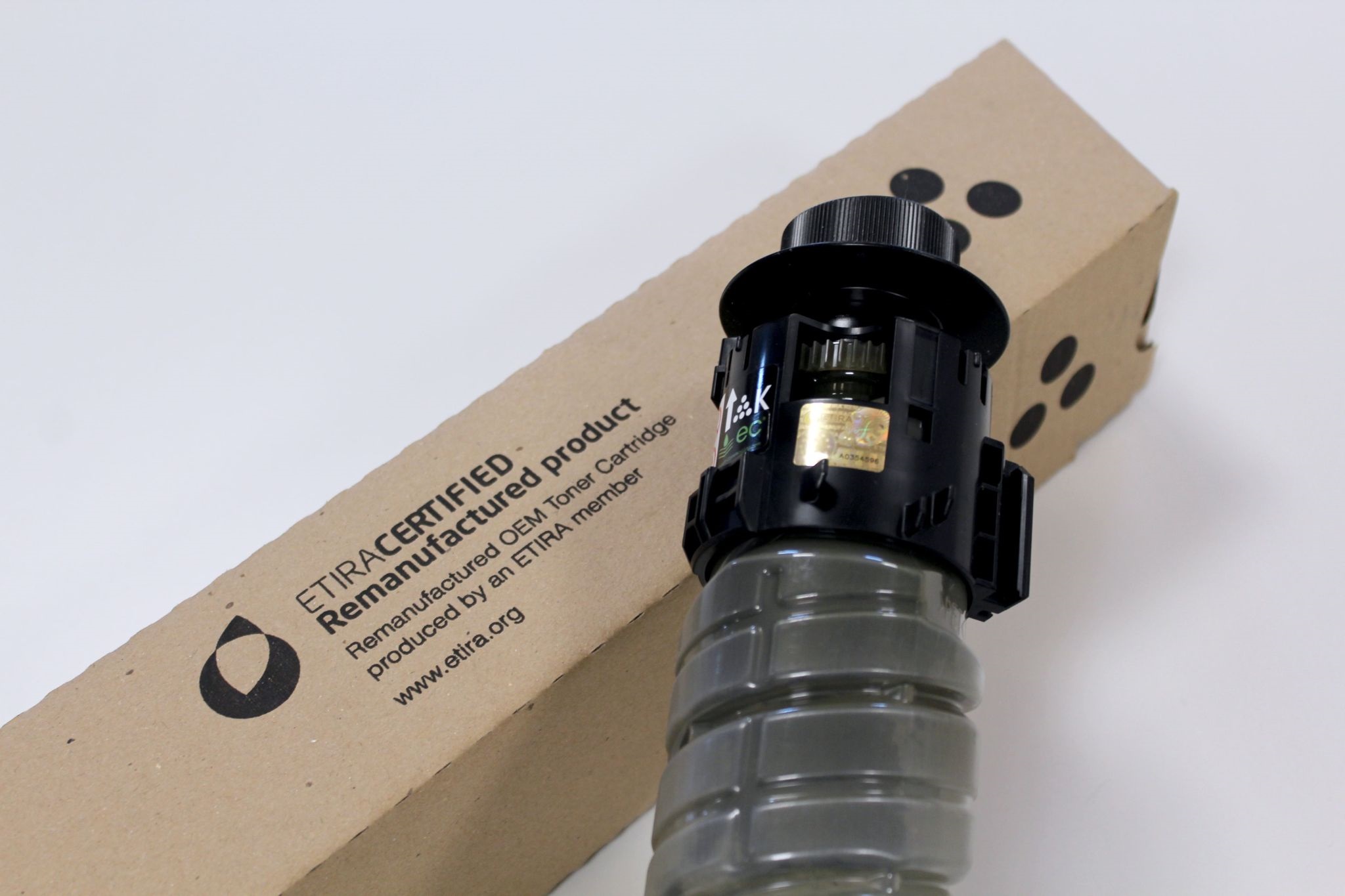 GM Technology, a global leader of premium refurbished photocopiers, printers and consumables, will promote its remanufactured products with special certification from the European Toner and Inkjet Remanufacturers Association (ETIRA).
Based in Dos Hermanas in Seville, Spain, GM Technology offers a range of sustainable products focused on maximising reuse. These include the unique R-OEM and R-GEN remanufactured toners and the Green Line range of machines.
The company, a member of ETIRA since 2020, will display ETIRA's label certification which differentiates between remanufactured OEM (Original Equipment Manufacturer) cartridges from new OEM and non-OEM newbuilds. The label certification raises the profile of remanufactured products produced by ETIRA members, like GM Technology, which offer a superior environmental performance.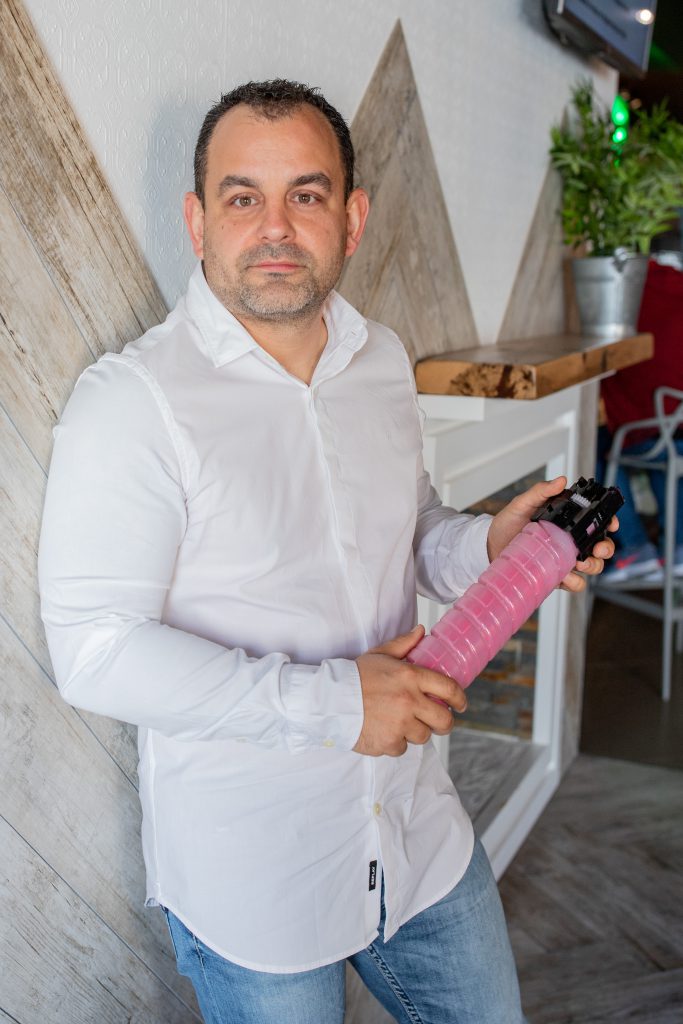 Zoltan Matyas, director of international business at GM Technology, said: "Our business model and operations have always been designed around reuse, remanufacturing and most importantly the core value of respecting the environment.
"We believe that nowadays it is essential that all businesses operate this way: committed to the planet and reducing the impact of human activity on the environment.
"Thanks to the presence of the ETIRA label on our toner cartridges and reference to it on our packaging, our customers have the certainty that they are buying a sustainable product, which has been remanufactured with respect for the planet.
"For a company operating in the toner remanufacturing industry, it is extremely important to differentiate our products and effectively communicate our values. The ETIRA label helps us to do exactly that.
"We would like actively cooperate with fellow industry members to support the cause of making remanufactured printing equipment and consumables the first choice for all office printing needs.
"We believe that the current global economic model, which is lineal and based on extracting raw materials, producing, and then disposing of them, must be reversed as soon as possible, or there will be no future on our planet for the next generations."
Javier Martinez, president of ETIRA, said: "In Europe, 70 per cent of cartridges are thrown away after use but remanufacturing cartridges can reduce their carbon footprint by up to 60 per cent. We are committed to reducing the number of cartridges that go directly to landfill and are so pleased to have GM Technology with us on this sustainable journey."
For further information about GM Technology, visit www.gmtechnology.net
Tags
ETIRA Certification Mark
GM Technology
Reuse
October 11, 2022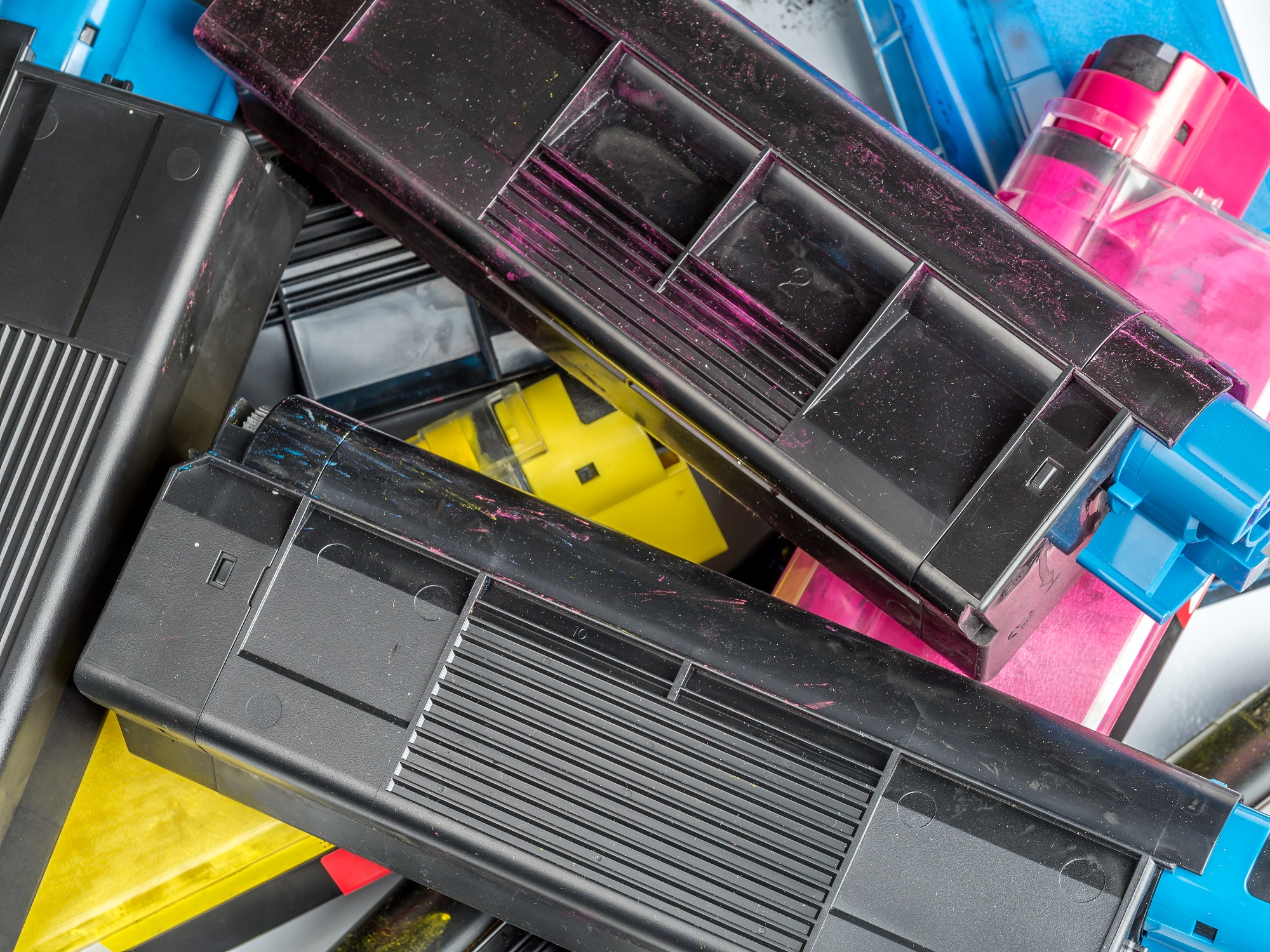 This month, ETIRA's board agreed the organisation's position on the upcoming EU regulation on the printer industry (see previous articles for full details).
As voiced in the past, ETIRA wants the future EU law to address a compulsory rising minimum reuse percentage of all produced cartridges.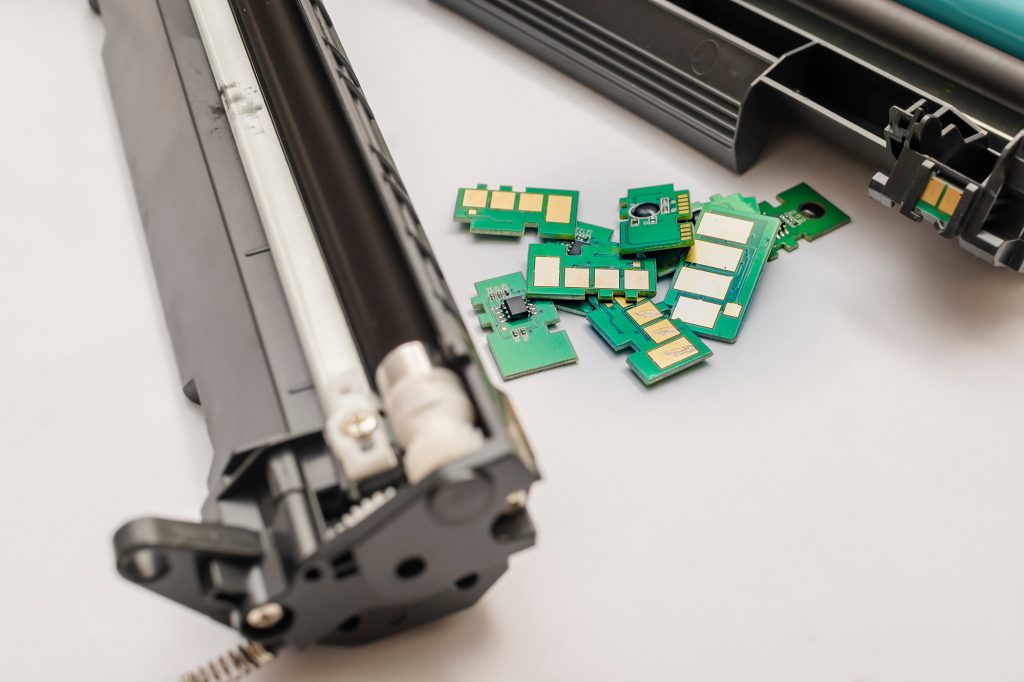 Also, all anti-reuse tools and tactics like firmware updates, chips, chip resetting, embedded software, patents on remanufacturing, closed loop sales systems, etc, must be prohibited.
If that is not possible, access to OEM chip technology must be made available to third parties at economically reasonable cost.
Imports of polluting and unhealthy non-OEM new builts must be stopped at the EU border.  
ETIRA's other demands include:
all remanufactured OEM cartridges should be able and allowed to perform identically to OEM
strict enforcement of intellectual property rights of new built non-OEM single use cartridges imported from outside the EU
strict enforcement of all health /safety regulations such as WEEE, RoHS, REACH, etc to be demonstrated by all cartridges marketed in the EU.
all new cartridges entering the EU must be reusable: no exceptions for subscription or service models etc.
EU green public tender criteria for imaging equipment (GPP) to become compulsory
ETIRA will now send its views to EU and Member States authorities.
Tags
EU legislation
Reuse
June 24, 2021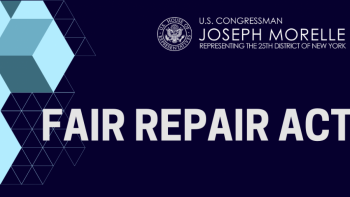 Javier Martinez, president of ETIRA, said: "ETIRA is very pleased to see the US Congressman introducing the Fair Repair Act.
"We represent inkjet and toner cartridge remanufacturers across the EU and have been lobbying the EU for a right to repair for many years now. The recent EU Green Deal should deliver a compulsory Right to Repair, and the EU's Sustainable Product policy should ensure that products are designed in such a way that they can be easily reused (eco-design). Cartridges are textbook products for repair, but original equipment manufacturers (OEMs) use many ways to block reuse.
"The Fair Repair Act will mean that businesses and consumers will no longer be held hostage by the OEM and will have the right to repair their own products.
"This is a very important Bill that will help to reduce waste and lower prices for repair in the USA, and we fully support this and hope that the EU will take steps to improve regulations for remanufacturers across the EU."
For more on this please visit https://morelle.house.gov/media/press-releases/congressman-joe-morelle-introduces-fair-repair-act
Tags
Fair Repair Act
Reuse
US Congressman Joseph Morelle
May 28, 2021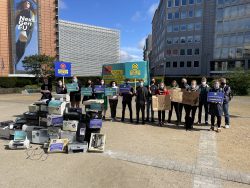 A protest which took place on the streets of Brussels this week has been praised by ETIRA for raising awareness of the right to repair.
The demonstration, organized by the European Right to Repair campaign, saw protesters pile end-of-life printers in front of the European Commission while MEPs and members of the media watched on.
The event aimed to raise awareness 'about the Commission's continued inaction on this iconic destined to fail product [printers]…"
The European Right to Repair campaign said: "The European Commission's flagship Circular Economy Action Plan, adopted in March 2020, has set out to address the entire life cycle of products and tackle their premature obsolescence notably by promoting the right to repair for ICT products.
"The Commission had rightfully identified printers as a particularly wasteful product, and committed to tackle them by means of a dedicated regulatory instrument "unless the sector reaches an ambitious voluntary agreement" by September 2020."
Commenting on the fact that nearly one year later, the discussions on the voluntary agreement have not yielded any tangible results, the campaign team added: "We need strong regulatory action now."
Chloé Mikolajczak, campaigner for the Right to Repair campaign, added: "Printers are one of the most iconic examples of premature obsolescence and some of the least repairable products brought to community repair events. According to data from the Open Repair Alliance, only 37% of printers get repaired at events, while 33% are deemed end of life."
Javier Martinez, President of ETIRA said: "ETIRA supports the call for a Right to Repair. Remanufacturing printer cartridges and printers is textbook reuse and could create thousands of new jobs here in Europe. It should be the no. 1 item in Europe's Green Deal and Sustainable Product policies."
Tags
circular economy
Reuse
April 22, 2021
HP outlines broad plans to combat climate change focused on Carbon Emissions, Circularity and Forests   

Introduces partnerships to extend impact ranging from ocean conservation to forest restoration
Goals
Achieve net zero greenhouse gas (GHG) emissions across HP value chain by 2040, beginning with supplies business achieving carbon neutrality by 2030
Reduce HP value chain GHG emissions 50% by 2030.
Reach carbon neutrality and zero waste in HP operations by 2025.
Reach 75% circularity for products and packaging by 2030
Maintain zero deforestation for HP paper and paper-based packaging
Counteract deforestation for non-HP paper used in our products and print services by 2030
Partnerships
Expands HP Sustainable Forests Collaborative
Sponsors Forest Stewardship Council's Digital Marketplace
Joins Ocean Conservancy's Trash Free Seas Alliance® Steering Committee
Today, in advance of Earth Day, HP Inc. (NYSE: HPQ) announced some of the most aggressive and comprehensive climate goals in the technology industry. The commitments highlight the progress the company is making to drive a net zero carbon, fully regenerative economy, reduce its overall environmental footprint, and strengthen its business for the long term to create the most sustainable portfolio of products and solutions in the industry.
"Combating the climate crisis is an unprecedented challenge demanding action across the private and public sectors. We all have a shared stake in safeguarding our planet, and making a sustainable impact on the communities we serve must be a priority for all companies," said Enrique Lores, HP Inc. President and CEO. "At HP, we are united in our ambition to become the world's most sustainable and just technology company. These new goals reflect our continued efforts to drive toward net-zero carbon emissions – not just within our own operations, but across our entire value chain. It's not only the right thing to do, but also an increasingly important driver of innovation and growth that will strengthen our business well into the future."
The Case for Business Transformation
The measures HP is pursuing, including the targets announced today, are among the most comprehensive climate actions in the technology sector and align with relevant U.N. Sustainable Development Goals. In order to achieve these goals, HP is focused on accelerating five strategic drivers intended to decouple growth from carbon emissions and resource consumption, drive innovation, and transform design and business models:
Print and Compute-as-a-Service: Print supplies renewal, hardware-as-a-service, certified pre-owned, hardware
Sustainable materials: Increase use of renewable and recycled materials
Supply chain decarbonization: Drive and support supplier carbon reduction, use of renewable electricity, and adoption of surface transportation and alternative fuels and electric vehicles for product shipments
Energy efficiency: Design in existing and new energy-efficient product technologies
Forest investments: Address the fiber used in printing and packaging by investing in forest restoration and protection, and continue to source certified or recycled materials
Carbon emissions and circularity
To achieve these targets, HP will be carbon neutral in its operations by 2025 and reduce Scope 1, 2, and 3 greenhouse gas (GHG) emissions by 50% on an absolute basis by 2030, compared to 2019.[vi] Additionally, 75% HP's total annual product and packaging content, by weight, will come from recycled, renewable and/or reused materials, products and parts by 2030. HP commits to 75% of its total annual product and packaging content (by weight) to come from recycled and renewable materials and reused products and parts by 2030. These actions will help to position HP to reach net zero emissions across its value chain by 2040. In line with HP's circularity ambitions, HP Operations will be zero waste in its managed facilities by 2025.[vii] HP's Customer Support organization will also be carbon neutral across both HP and partner-run operations by 2030.
HP will pursue and accelerate a range of steps, including enabling a circular economy by using more sustainable materials, such as recycled plastics and metals, and investing in forest restoration and protection.[viii] Since 1991, HP has kept more than 875 million HP cartridges, 114 million apparel hangers, and 4.69 billion postconsumer plastic bottles out of landfills—instead, upcycling them to make new HP products. After introducing the world's most sustainable PC portfolio, HP continues to innovate throughout its product portfolio and work with key partners to achieve circularity. HP is a member of NextWave Plastics, collaborating across industries to create the first global network of ocean-bound plastic supply chains. HP is also a member of the Ellen MacArthur Foundation's Network and the Circulytics measurement tool.
HP was the first global IT company to publish its full carbon footprint and set carbon emissions reduction goals for its operations, supply chain, products and solutions. HP was among the first 10% of companies with GHG emissions reduction goals approved by the Science Based Targets Initiative, including a 1.5°C aligned goal to reduce its Scope 1 and 2 emissions 60% by 2025 compared to 2015. For two consecutive years, HP is the only technology company to have been named to CDP's A lists for climate, forests, and water, as well as CDP's supplier engagement leaderboard. HP has been a member of RE 100 since 2016 and EV 100 since 2017.
Reducing Carbon in HP Supplies
HP will transform its print business from a transactional model to a services model, while actively reducing the carbon footprint of its company and its products. To accelerate a transition to a net zero value chain, HP commits to carbon neutrality for its supplies business by 2030.
HP will start transitioning supplies to be carbon neutral by launching HP Instant Ink with Planet Partners pilot, leveraging recycling and new renewal capabilities to extend the life of Original HP Supplies. This pilot will help customers decrease virgin plastic used, and diminish waste, including ocean-bound plastics, on the pathway to circularity. Launching in Germany in May 2021, HP Instant Ink with Planet Partners will allow HP Instant Ink subscribers to opt-in to receive renewed cartridges. The end-to-end use of HP technology and engineering is what makes this pilot unique. The consistent reliability and outstanding print quality of Original HP Supplies mean fewer reprints and less waste.
ETIRA commented "The Voluntary Agreement's environmental performance since 2011 has been extremely weak, and it did not facilitate cartridge reuse.  If it wants to play a serious role in reducing the environmental footprint of the printing industry, it must include strong eco-design regulation, clear reuse targets for OEMs such as HP, and decisive action against polluting single-use clone cartridges."
Tags
HP
Reuse
July 29, 2020
The European Toner and Inkjet Remanufacturers Association (ETIRA) is urging HP to rethink its latest printer firmware update.
The update, version 2025A/2021B – released in July 2020 – affects HP OfficeJet 5220, 5255, 5230, 5232, HP ENVY 5020, 5032 and HP DeskJet 2621 devices.
In the past, similar updates have blocked out reused HP cartridges across the globe, causing significant financial damage to end-users, resulting in many claims against HP. ETIRA is hoping to avoid a similar situation again.
Javier Martinez, president of ETIRA, said: "It is quite clear that HP printer owners using reuse cartridges who update the firmware, may find that their cartridges no longer work, and this is down to HP. Its printers use something called 'dynamic security', which recognises cartridges that aren't HP branded and stops them from working and this is unacceptable for a variety of important reasons.
"Firstly, the result of the overnight change is that reuse/remanufactured HP cartridges no longer function in the printer in which they are installed, and they may render remanufactured stock cartridges useless. End-users can no longer print, and this is especially painful in the current COVID-19 environment, where many are forced to use home printers to do their job.
"Secondly, the resulting higher volume of non-working but full cartridges exponentially increases waste treatment risks, as treatment plants are designed to process empty cartridges, not full ones.
"And finally, but most important: this approach has an unnecessary and negative environmental impact as good products are wasted prematurely and unnecessarily. Reuse of a cartridge several times, followed by recycling its base materials is by far the preferred option as it reduces CO2 emissions by up to 45%-60%, and saves energy and natural resources.
"Our members will hold HP responsible and liable for all damages occurring from this update and under the new EU Circular Economy Action plan mandate and existing waste regulations, HP may find that its actions are considered an environmental offence."
ETIRA has mentioned this issue to HP on numerous occasions but so far to no satisfactory conclusion. The association has now again written to the firm, raising its concerns.
Javier Martinez added: "HP's printer cartridges business model is the opposite of sustainability, forcing end-users to buy a new cartridge each time instead of reusing it several times. It also renders reuse cartridges useless without cause and goes against the new EU policy to become carbon-neutral and promote reuse EU-wide.
"On behalf of our members and all those across Europe who use reusable cartridges, we urge HP to abandon this strategy of creating pollution and take the path of sustainability instead which will allow consumers and third parties to easily reuse HP cartridges without being hindered by unnecessary firmware updates that block out remanufactured HP cartridges."
Tags
HP
Inkjet cartridges
remanufacture
Reuse
October 17, 2019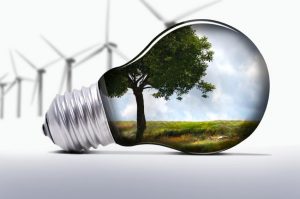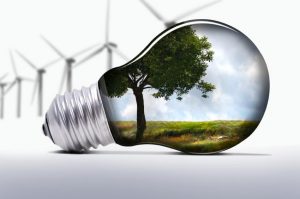 ETIRA welcomes Brother Industries' efforts on eco-design  and  environment, by allowing easier cartridge reuse
ETIRA, the European Toner and Inkjet Remanufacturers  Association welcomes, recognizes and congratulates Brother Industries on its latest strategy and action in favour of a cleaner Europe, and endorsing cartridge remanufacturing as a top priority.
Brother has fitted chips on recent cartridge models, and although the independent cartridge remanufacturing industry initially feared these chips would hinder and obstruct remanufacturing of the cartridge (like chips from most OEMs do!),  this is not the case with these particular Brother chips.  When these cartridges run empty, their chips can be easily reused time and time again.  And while this chip protects Brother's IP -rights, it does not obstruct remanufacturing of the cartridge by independent cartridge remanufacturers.
In ETIRA's view, this Brother strategy represents a key milestone in the fight against single-use cartridges ("SUCK"s as they are known in the market), and addresses the needs of our society which calls for product reuse and meets the European Directive on Eco-Design.
It also represents a major step forward into applying the "4R"- hierarchy,  which places preparation for reuse and remanufacturing above other options like mere recycling of the materials, incineration or landfill.
ETIRA calls on all other printer manufacturers and the European authorities to follow the example set by Brother. Chips can enhance cartridge functionality but must never hinder cartridge reuse.
We also ask for EU-wide mandatory and increasing minimum reuse thresholds for cartridges.  This is what some EU member states, that are truly aware of the damage that single-use plastic cartridges represent to the European environment, are already calling for.
Cartridges are WEEE, electronic waste, and as such their preparation for reuse is the top priority, as  WEEE  account for  70% of toxicity on waste.
For this, there should be an obligation  on printer manufacturers to share data with 3rd  parties under  a license  agreement, similar  to the arrangements existing in the car industry where  manufacturers  are  obliged  to  supply  independent  3rd  party  repairers all  information  they require to  do maintenance  and  repair  of  all  vehicles,  including software,  parts  catalogues, manuals, etc.
Tags
Brother
Chips
Reuse
June 28, 2019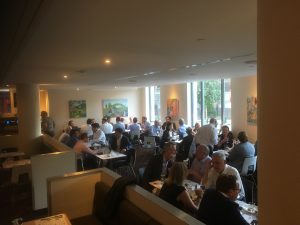 ETIRA/ THE RECYCLER LIVE MEET IN BRUSSELS: RECORD ATTENDANCE – JAVIER MARTINEZ ELECTED PRESIDENT
Interesting speakers and networking in a 2-day session
On 27-28 June 2019, ETIRA held its annual meeting in Brussels, in the context of the "The Recycler Live Europe" conference. With over 90 delegates it was again the #1 event to meet fellow industry members and hear the latest industry data. ETIRA thanks organisers The Recycler and David Connett for a great event!
On Thursday, expert Zoltan Matyas spoke on Digital Marketing, and Keypoint Intelligence's Andrew Carroll showed latest industry market data: they expect the toner B&W aftermarket share to grow somewhat, but clones remain a concern. Nubeprint addressed security in the internet, and Italian industry experts tackled blockchain options to trace the flow of cartridges. Drinks and dinner allowed for great networking. On Friday, UK remanufacturer ECS highlighted the concerns of single-use plastics. Chip supplier APEX elaborated on firmware updates issues. And Lauren Rabbitte drew the crowds with her take on waste and how to avoid it. The rest of the morning was dedicated to EU issues: David Fitzsimons of the EU Remanufacturing Council showed how they can help lobby EU bodies to promote product reuse. Javier Martinez and Vincent van Dijk updated the floor on our EU lobby successes in Green Public Procurement, the Voluntary Agreement, and a possible EU Ecolabel for reman cartridges (PowerPoint available). After lunch, David Connett wrapped up the event with many interesting views on the overall market.
At the ETIRA "Member's Only" general meeting on Thursday, members elected Javier Martinez (Turbon) as their new President. Also re-elected were Gerwald van der Gijp (Vice-President), Jan-Michael Sieg, and David Connett. Newly appointed Board members include Volker Kappius (Delacamp), Peter Knak (IMEX), and Milan Banjac (TIN Group). Christian Wernhart and Jörgen Wonisch stepped down from the Board, ETIRA thanks them for their service. At the meeting, ETIRA members discussed the new strategy of the association. We will enhance our communications and outreach in traditional and social media, and set up working groups to address selected topics. The newly appointed Board of Directors will further elaborate its 2019-2020 work programme in the coming months.
ETIRA also welcomed several new members: REEQ (NL), Delacamp (Hamburg, D), WTA (Suhl, D) and Recoll (Etten-Leur, NL) and approved the 2018 finances and 2019 budget.
ETIRA kindly thanks the sponsors for making this event possible: ECS, APEX, SPEED, Nubeprint, Armor, Biuromax and Lightwords