March 26, 2019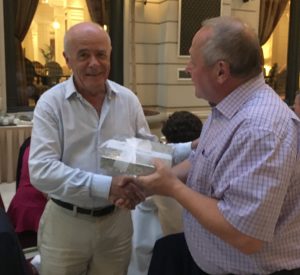 Learning the latest industry news and networking over drinks and dinner!
90+ delegates attend – ETIRA elects new Board of Directors – David Connett becomes President – ETIRA thanks outgoing President Christian Wernhart
On the 21-22 June 2018, ETIRA met in Budapest, Hungary for its annual member meeting, and for The Recycler Live Conference. The event was a top opportunity for networking and learning, held this year at the beautiful Corinthia hotel. With 90+ delegates, and organised by The Recycler magazine, The Recycler Live Conference is the 2nd largest industry event in Europe after remanexpo@paperworld.
On Thursday, ETIRA held its internal Board meeting and annual statutory meeting. The association approved its 2017 financial statements and reset its 2018 budget. Members evaluated the 2017/2018 activities and the work done by ETIRA in the past 12 months, They also assessed the priorities for 2018.
Friday saw an impressive group of speakers addressing the floor on many topics facing remanufacturers today. Industry magazine The Recycler will report extensively on the many presentations. And the Thursday Cocktail and Dinner were great for informal networking and new business opportunities!
ETIRA elects new Board of Directors
On Thursday, ETIRA elected a new Board of Directors for the mandate 2018-2020. President Christian Wernhart (Embatex) stepped down after 12 years at the head of the association but will continue as a regular Board member. David Connett, founding Member of ETIRA and long-time Vice-President, succeeded Wernhart as President. Also stepping down were Stephanie Unland (The Recycler) and Treasurer Philippe GUENIN (LVL). ETIRA thanked all three for their support throughout the many years! Reappointed members of the Board include ARMOR's Gerwald van der Gijp (elected as new Treasurer), Jörgen Wonisch (Greenman), Jan-Michael Sieg (KMP) and Javier Martinez (Consuprint).
Former editor of The Recycler David Connett will take up the role of President at a crucial juncture. Due to the tough market environment and changes among the membership, the association is facing new challenges. Connett is keen to address those head-on: for ETIRA, member interests come first. Also, a larger focus on conveying the reman message to the outside world will bring new boosts for the industry as a whole.
ETIRA thanks organisers The Recycler magazine and the sponsors for a very successful 2-day event in Budapest!
Tags
ETIRA Members
Europe
Events
Members
The Recycler Live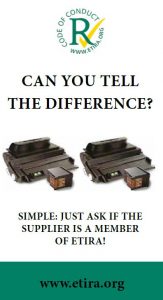 ETIRA has a flyer that tells the reader to buy their remans only from ETIRA members. As an easy- hand out,  the flyer lists the benefits of remanufactured cartridges compared to OEM and compatibles. The flyer can be downloaded by clicking here !
Tags
Flyer
Guide
Members
remanufacturing
March 25, 2019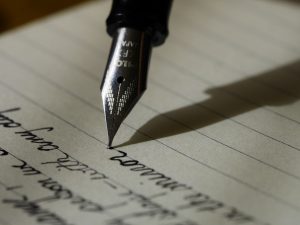 General marketing speak is OK, but you cannot say things that are not true. ETIRA regrets that HP's new product marketing material is again lowering the bar. Their September 2017 flyer on printer cartridges may be generally correct on clones and counterfeits, but speaks nonsense on remanufactured cartridges: it is a baseless generalization, which gets it wrong on all three counts: quality, safety and environment.
On quality, because since the 1990's, 3rd party cartridge remanufacturers have held a 20-30% market share in toners and 15-20% in inkjets and is now a 2bn euro industry in Europe. So remanufacturers must be doing something right in terms of quality. And like the OEM's, remanufacturers comply with the ISO cartridge yield standards.
On safety and quality, because most remanufacturers produce according to DIN, Nordic Ecolabel, STMC, ISO 9003, and other international safety and quality standards.
On environment, because we adhere to ISO 14001, Blue Angel, Nordic Ecolabel and similar standards. Most environment standard are only available to reuse cartridges, because by definition, they are more environment-friendly than new cartridges ! And it is only thanks to 3rd party remanufacturers that 20-30% of cartridges are not being landfilled after 1st use, but get a 2nd and subsequent life, reducing their environmental footprint while offering customer choice. No printer manufacturer matches that environmental performance.
ETIRA thinks the flyer contradicts earlier HP viewpoints. In 2015, HP sued a company in the Netherlands because it sold new non-HP cartridges but labeled them as "totally rebuilt". But as HP does not offer remanufactured HP cartridges, ETIRA saw this court case as support to the remanufactured cartridge industry. Why else would they spend the time and cost of a court case ?
ETIRA reached out to HP management to stress that the flyer is misleading and constitutes false advertising, and must be reworded.